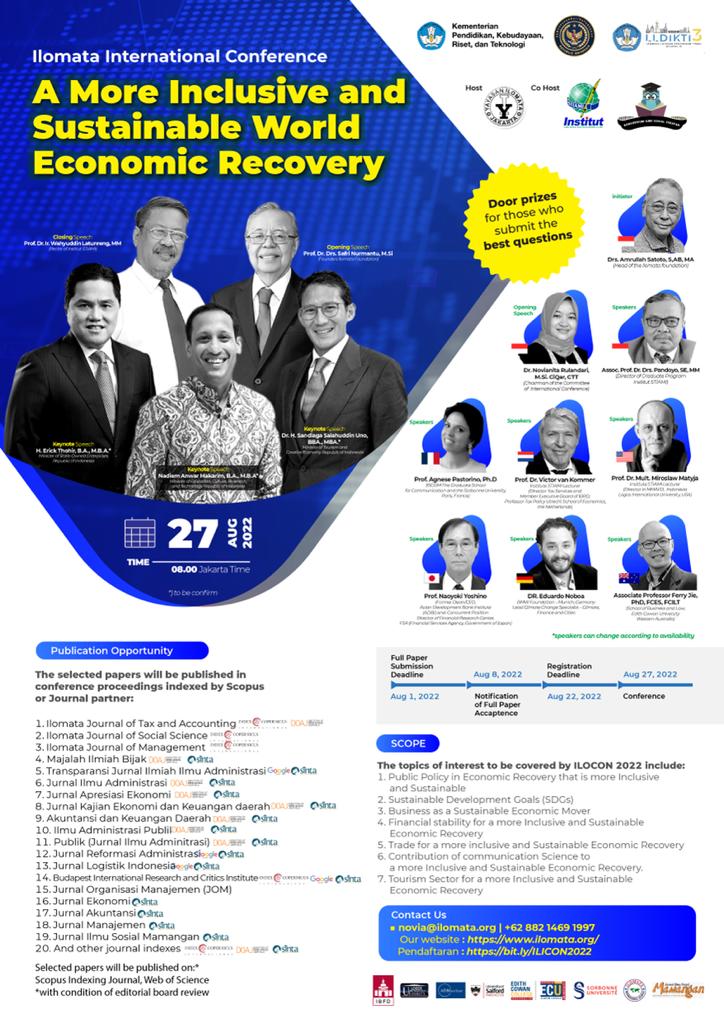 *ILOMATA INTERNATIONAL CONFERENCE: A More Inclusive and Sustainable World Economy Recovery*
We would like to invite you to contribute in call for paper with these scope Public Policy, SDGs, Economics, Financial Stability, but not limited to related scope.
August, 27st 2022
Zoom Meeting Apps

SPEAKERS:
1. Prof. Dr. Victor Van Kommer – Netherlands (Extraordinary Lecturer of Institut STIAMI, Director Tax Services and Member Executive Board of IBRD)
2. Prof. Dr. Mult Miroslaw Matyja – Amerika (Extraordinary Lecturer of Institut STIAMI , Professor at Logos International University, USA)
3. Prof. Naoyoki Yoshino (Former Dean/CEO, Asian Development Bank Institute (ADBI) and Concurrent Position Director of Financial Research Center, FSA (Financial Services Agency), Government of Japan)
4. Prof. Agnese Pastorino, PhD (Professor in Sociology and Social Psychology, ISCOM, Paris)
5. Assoc. Prof. Ferry Jie, PhD, FCES, FCILT (Lecture from School of Business and Law, Edith Cowan University, Australia
6. Dr. Eduardo Noboa – Germany (BMW Foundation – Munich, Gemrnay Lead Climate Change Specialist – Climate, Finance and Cities)
7. Assoc. Prof. Dr. Drs. Pandoyo, SE, MM– Indonesia (Diector Graduate Program of Institut STIAMI).
THE TOPICS OF INTEREST TO BE COVERED BY THE ILOMATA CONFERENCE INCLUDE:
- Public Policy in Economic Recovery that is more Inclusive and Sustainable
- Sustainable Development Goals (SDGs)
- Business as a Sustainable Economic Mover
- Financial stability for a more Inclusive and Sustainable Economic Recovery
- Trade for a more inclusive and Sustainable Economic Recovery
- Contribution of communication Science to a more Inclusive and Sustainable Economic Recovery.
- Tourism Sector for a more Inclusive and Sustainable Economic Recovery, etc
PUBLICATION OPPORTUNITIES
Selected papers will be published in Conference Proceedings indexed by Scopus or SINTA indexed journal partner
FOR FURTHER INFORMATION, GO TO
Registration:
Paper submission: https://www.ilomata.org/index.php/ILOCON2021
IMPORTANT DATES
✅ Abstract Submission Deadline: August 1, 2022
✅ Full Paper Submission Deadline: August 15, 2022
✅ Notification of Full Paper Acceptance: August 19, 2022
✅ Registration Deadline: August 22, 2022
✅ Conference: August 27, 2022


For more information, please do not hesitate to contact
Ms Putri +62 882-1469-1997
SUPPORTED BY: